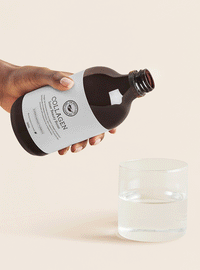 THE PERFECT PAIR
glow + collagen
GLOW + COLLAGEN
Designed to brighten, plump and renew, our bestselling duo works together to boost your collagen production, strengthen the skin and nourish the gut.*
GLOW Inner Beauty Essential: A daily beauty powder for radiant skin and gut health, now with a SUPERCHARGED FORMULA. With 18 Certified Organic wholefoods including bio-fermented maqui berries, queen garnet plum and pomegranate fruit peel extract, vitamin C to help boost collagen production and zinc to support healthy hair and nails. Plus provitamin A, broad-spectrum B vitamins and more probiotics and postbiotics thanks to our more potent fermentation process, this berry-flavoured blend promotes luminous skin—from the inside out.

COLLAGEN Inner Beauty Boost: A vegan elixir to plump the skin from within and nourish your gut.* Still with bio-fermented papaya and grapeseed extracts, now with added pomegranate peel extract, gotu kola, organic goji, acai and maqui berries, plus more vitamin C to support collagen production and zinc to support skin structure and healthy hair and nails.*
Mix 1 tsp (5g) of GLOW and 1 tbsp (15ml) of COLLAGEN in 200ml of water, a smoothie or your favourite drink. Can be taken together or separately.

For optimal results, both should be consumed daily in chilled or room temperature beverages.
GLOW Inner Beauty Essential: Bio-fermented Nutrient Blend (organic mung beans, organic brown rice, organic lentils, organic chick peas, organic linseed, organic maqui berry, queen garnet plum, organic buckwheat, organic hulled millet, organic Dunaliella salina, organic agave, organic molasses, organic quinoa, organic chia seeds, organic pepitas, organic sunflower seeds, lemon juice, organic green tea powder, organic ginger, organic turmeric), organic Dunaliella salina, Saccharomyces boulardii, stevia leaf extract, grape skin extract, natural wild berry flavor, citric acid..

COLLAGEN Inner Beauty Boost: Flora Culture™ Bio-Fermented Blend (fermented papaya fruit juice (42%), blueberry juice concentrate, queen garnet plum puree, cellulose gum, lactic acid, zinc ascorbate, anthocyanins (from black carrot), sea minerals, goji berry juice powder*, acai juice powder*, fermented papaya fruit extract (0.05%), papaya leaf extract (0.05%), gotu kola leaf extract, maqui berry powder*, grapeseed extract powder (0.05%), redcurrant and blackcurrant extract powder, pomegranate fruit peel extract (0.01%), Lactobacillus rhamnosus GUT5Y™ (0.002%), glycerol, natural flavourings (wild raspberry bitters), stevia leaf extract. *Organic Ingredients
Add a personalised email message when you checkout out.
Customer Reviews
All reviews submitted before 05/08/20 relate to a previous formula of GLOW Inner Beauty Essential and before 19/08/20 relate to previous formulas of our Inner Beauty Boosts. We have since launched the next generation SUPERCHARGED FORMULAS.