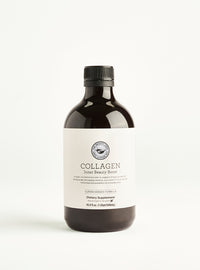 bestseller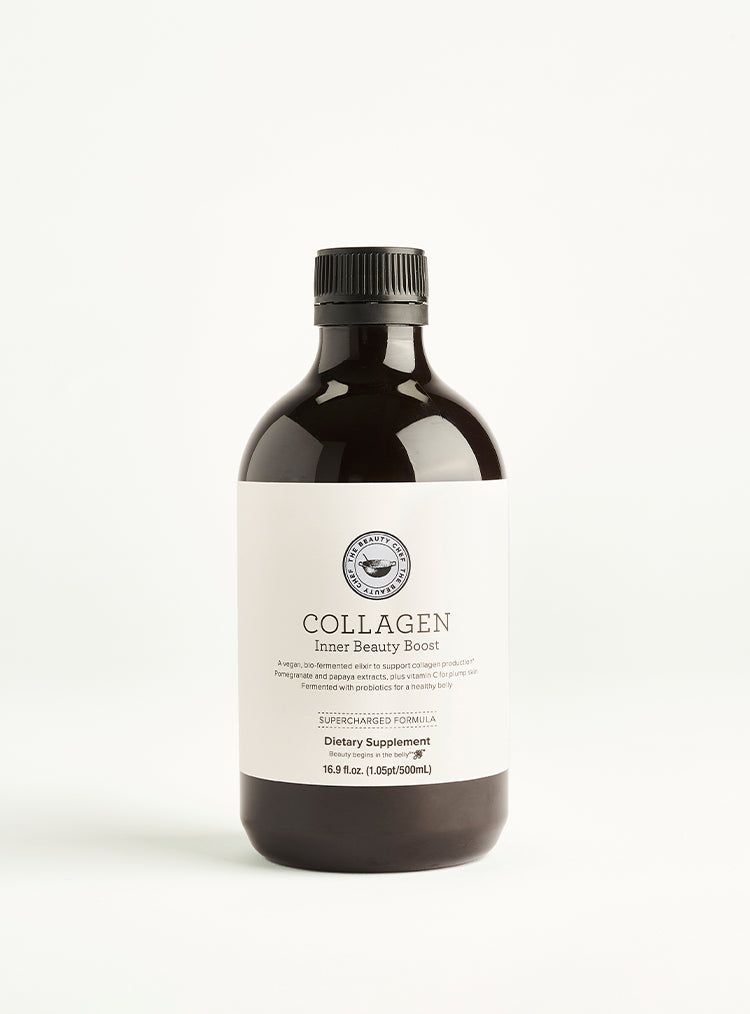 bestseller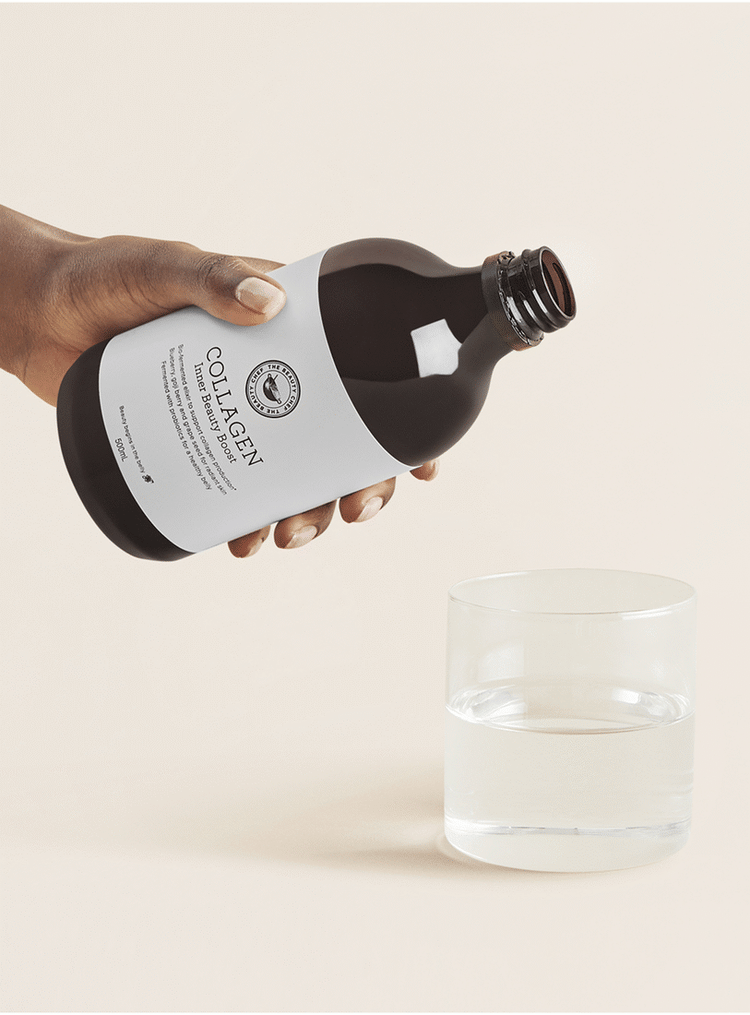 bestseller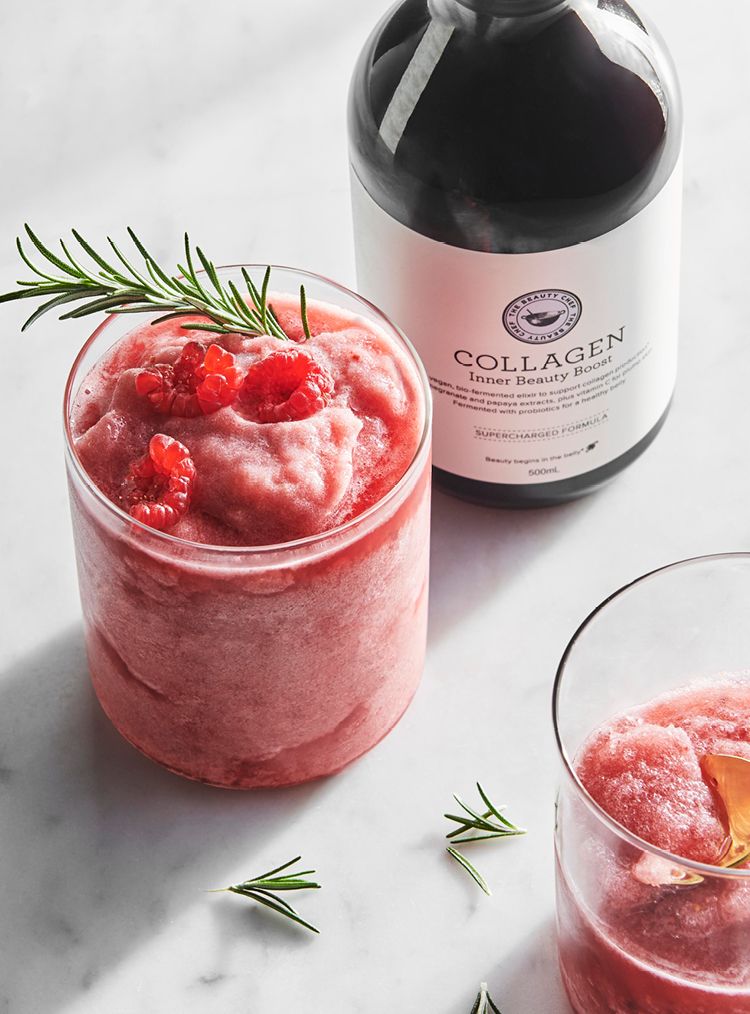 bestseller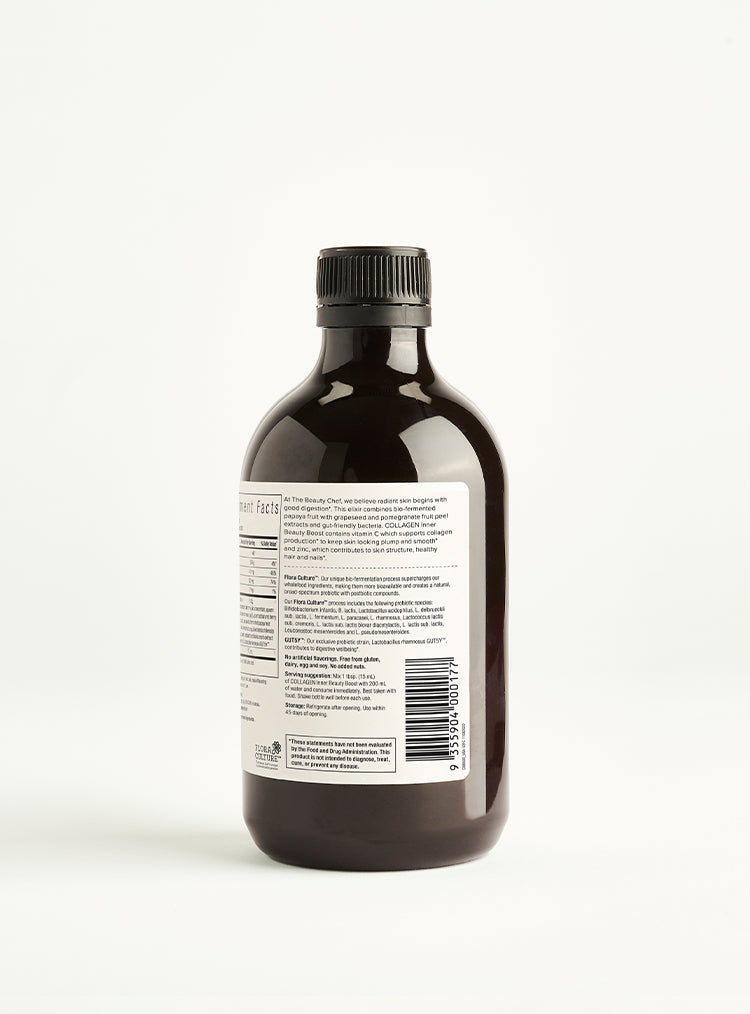 bestseller
bestseller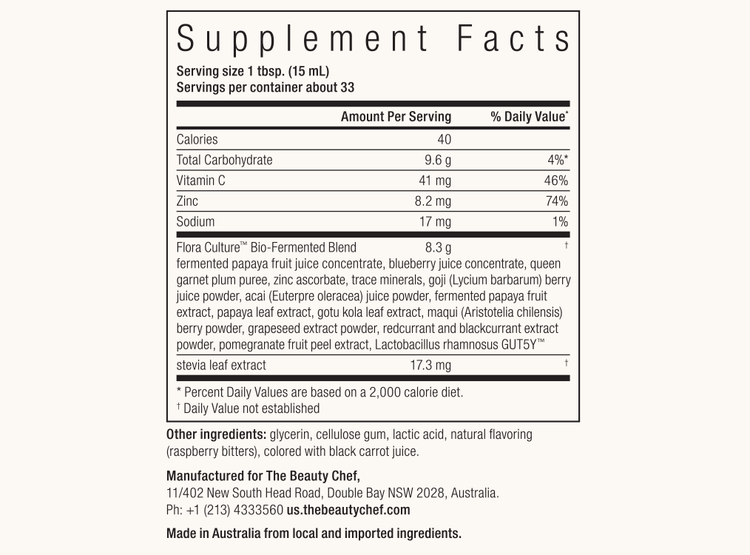 COLLAGEN


Inner Beauty Boost | 500mL / 33 serves

A delicious, berry-flavoured elixir to support collagen production.

This best-selling probiotic vegan elixir gives skin a healthy bounce. With vitamin C and zinc for healthy skin, hair and nails.
WHY YOU'LL LOVE IT
Contains vegan-friendly ingredients. This delicious elixir is a plant-based alternative to traditional collagen supplements and is made using natural, wholefood ingredients.
Supports collagen formation. Vitamin C contributes to normal collagen formation for the normal function of skin, while zinc contributes to normal skin structure and the maintenance of normal hair and nails.
Made with probiotics for a healthy belly. COLLAGEN is supercharged using our unique Flora Culture™ fermentation process, which creates a natural broad-spectrum probiotic and prebiotics to feed the beneficial bacteria in your gut. Our exclusive probiotic strain, Lactobacillus rhamnosus GUT5Y™, contributes to digestive wellbeing.
TASTE
A natural wild berry flavoured elixir with skin boosting papaya, pomegranate, queen garnet plum and acai.
OUR DIFFERENCE
Vegan
Made in Australia
Bio-fermented
Gut friendly
What is vegan collagen?
COLLAGEN Inner Beauty Boost contains natural, plant-based ingredients that supply your body with the essential co-factors required to produce collagen. This beauty-boosting, bio-fermented probiotic elixir has been scientifically formulated to help help boost your skin's natural collagen production, support healthy skin structure and cultivate a smoother complexion from the inside out.
COLLAGEN contains a super-charged, concentrated blend of Certified Organic maqui berry, acai, papaya, blueberry, goji berry and pomegranate powders with grape seed extract, zinc and vitamin C. The potency of these skin-loving wholefood ingredients has been enhanced by The Beauty Chef's exclusive Flora Culture™ fermentation process, making the nutrients more bio-available and better absorbed by your body's cells. COLLAGEN is also rich in natural prebiotics and probiotics to balance your digestive tract and enhance your skin's radiance.
How to use
Mix 1 tbsp (15mL) in 150mL of water or your favourite drink and consume immediately. 1–2 serves per day.
For optimal results, COLLAGEN should be consumed daily in chilled or room temperature beverages and can be taken with any other Beauty Chef product.
Inner Beauty Boosts are designed to amplify the benefits of your Inner Beauty Essential: GLOW®.
Storage: Shake bottle well before each use, refrigerate after opening and use within 45 days.
This elixir is not a sole source of nutrition and should be consumed in conjunction with a nutritious diet and appropriate physical activity.
Children and pregnant women: Not suitable for children under 15 years of age or pregnant women. In these cases, the product should only be used under medical or dietetic supervision.
READ MORE
Amplify with
VITAMIN C
Necessary for normal connective tissue structure and function, vitamin C also contributes to collagen formation for the normal function of skin.
ZINC
This nutrient is a skin-boosting powerhouse. Zinc contributes to normal skin structure and the maintenance of healthy skin, hair and nails.
PREBIOTICS, PROBIOTICS & POSTBIOTICS
Supercharged using our exclusive Flora Culture™ bio-fermentation process, COLLAGEN contains a natural broad-spectrum probiotic and postbiotics to support digestive health.
LACTOBACILLUS RHAMNOSUS GUT5Y™
Our exclusive probiotic strain which has been shown to support digestive wellbeing.
Flora Culture™ Bio-Fermented Blend (fermented papaya fruit juice (42%), Blueberry juice concentrate, Queen garnet plum puree, cellulose gum, lactic acid, zinc ascorbate, anthocyanins (from black carrot), sea minerals, goji berry juice powder*, acai juice powder*, fermented papaya fruit extract (0.05%), papaya leaf extract (0.05%), gotu kola leaf extract, maqui berry powder*, grapeseed extract powder (0.05%), redcurrant and blackcurrant extract powder, pomegranate fruit peel extract (0.01%), Lactobacillus rhamnosus GUT5Y™ (0.002%)), glycerol, natural flavourings (wild raspberry bitters), stevia leaf extract. *Organic Ingredients
Customer Reviews
All reviews submitted before 19/08/20 relate to previous formulas of our Inner Beauty Boosts. We have since launched the next generation SUPERCHARGED FORMULAS.
Frequently Asked Questions
Is COLLAGEN Inner Beauty Boost gluten free?
Yes, COLLAGEN SUPERCHARGED does not contain gluten or ingredients derived from gluten-containing grains.
Yes, COLLAGEN does not contain dairy or ingredients derived from dairy.
Is COLLAGEN suitable for vegans and vegetarians?
Yes, COLLAGEN does not contain animal-derived ingredients.
Is COLLAGEN FODMAP-friendly?
Yes, COLLAGEN is suitable for people on a low FODMAP diet and is certified as FODMAP Friendly.
Does COLLAGEN contain flavouring? What type?
Yes, COLLAGEN SUPERCHARGED contains natural wild berry and bitter flavours.
Yes, both men and women can take COLLAGEN SUPERCHARGED.
What is the best time of day to take COLLAGEN Supercharged?
COLLAGEN SUPERCHARGED can be taken at any time of the day that suits you, it can be taken in water, smoothies or mixed into cold or room temperature food.
Can I mix COLLAGEN in a hot drink?
No, we recommend that you avoid adding COLLAGEN to warm or heated substances as this may deplete the levels of beneficial bacteria; instead enjoy it in cool or room temperature beverages such as water, coconut water, juice, a protein shake or smoothie. COLLAGEN should be stored in the fridge and be consumed within 45 days of opening.
Can I take COLLAGEN with other Beauty Chef products?
Yes, you can absolutely combine The Beauty Chef products together. SLEEP and GUT PRIMER can be taken as per the label directions for use, and the remainder of the range can be taken up to two serves daily. These can be consumed either together or individually – in filtered water, coconut water, juices or smoothies. Recommended serving sizes can be found on the bottle/jar.
Is COLLAGEN safe to use when pregnant and/or breastfeeding?
Unfortunately, as indicated on the label, this product is not suitable for use in pregnancy or while breastfeeding. As there is insufficient evidence available to recommend the use of pomegranate fruit peel (high in ellagic acid) in pregnancy and breastfeeding, we recommend speaking with your healthcare professional if you wish to take this product.
Does COLLAGEN take the place of a probiotic?
Our products are wholefood supplements that contain probiotics and postbiotics, rather than probiotic supplements. Whilst probiotics are an important part of The Beauty Chef's Inner Beauty Products, they are just one element that contributes to the many benefits. Our point of difference is our exclusive Flora Culture™ fermentation process. While probiotics you may find in the supermarket often only carry one or two species or strains, our formulas offer multiple, natural, food-based strains to help encourage microbial diversity. The addition of prebiotic-rich ingredients also helps to nourish the beneficial bacteria in your gut to further boost and balance digestive health. If you are experiencing a medical condition whereby your health practitioner has recommended a particular strain or species at a certain level, you may need additional supplementation.
How is the SUPERCHARGED FORMULA different? Why did you change the formulation?
While many of the original ingredients remain the same, COLLAGEN SUPERCHARGED now contains more fermented papaya for gut loving goodness, as well as more zinc and vitamin C. COLLAGEN used to contain 7.5 mg of zinc (62.5% of the Australian RDI) and 10 mg of vitamin C (25% of the Australian RDI) per 15mL serving while COLLAGEN SUPERCHARGED now contains 8 mg of zinc (67% of the Australian RDI) and 41 mg (102% of the Australian RDI) of vitamin C. Vitamin C is needed for collagen production to keep skin looking plump and smooth while zinc helps to improve skin structure and promote healthy hair and nails. This SUPERCHARGED formulation contains more organic ingredients as we've been able to source organic super berries – goji, acai and maqui. We have also added gotu kola leaf extract, redcurrant and blackcurrant extracts, Queen garnet plum as well as our own trademark strain of probiotic – Lactobacillus rhamnosus GUT5Y™. We have also refined our process to bring more fermented gut loving goodness to our formulas. This means that our formulations deliver enhanced gut-skin benefits as well as improving the digestibility and bioavailability of the wholefoods being fermented. All of these add up to COLLAGEN SUPERCHARGED delivering more gut and skin loving benefits.
Does COLLAGEN SUPERCHARGED taste different?
We have worked hard to keep the flavour of COLLAGEN SUPERCHARGED as true to original COLLAGEN as possible, however due to some formulation changes – such as the increase in fermented papaya – the flavour profile is slightly different. We know how much our customers love the taste of this skin-loving elixir, so we hope we've done the original COLLAGEN justice – while also being able to increase the gut-loving goodness of the final formulation.