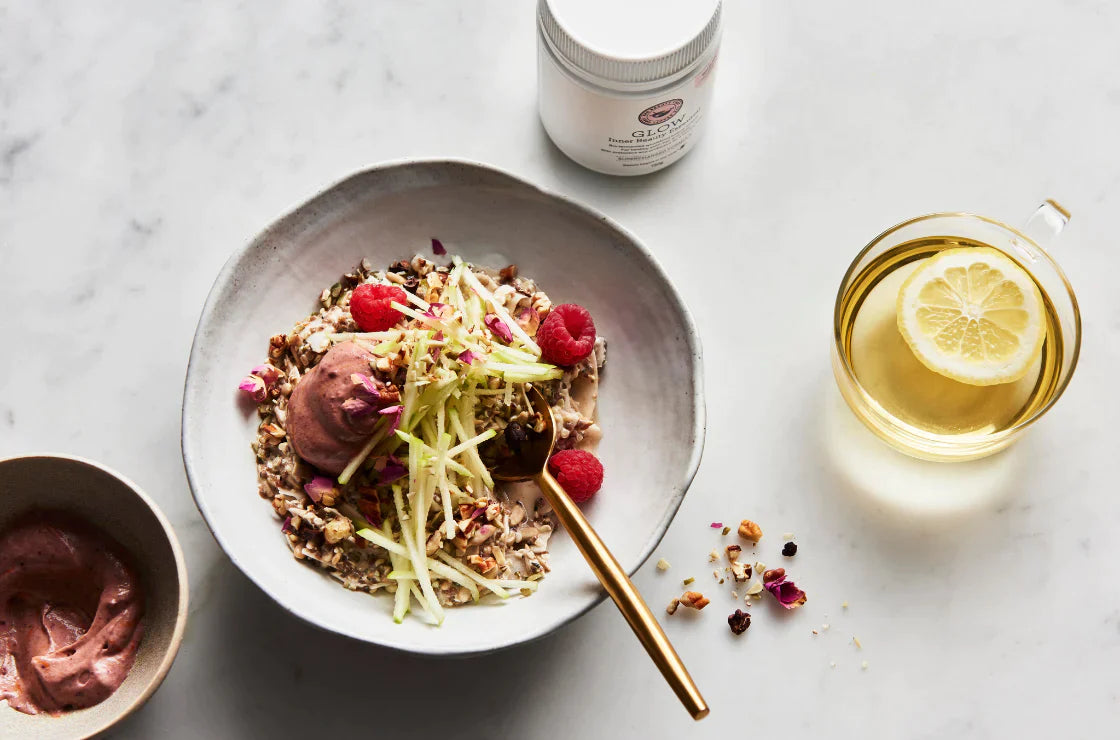 By Carla Oates
As the product that launched an entire category—GLOW Inner Beauty Essential has stood the test of time as the world's first probiotic supernutrient formula for glowing skin, healthy hair and nails, energy and wellbeing.
To say it's a multitasker is an understatement. But beyond its myriad of benefits, what people often want to know is what does it really taste like? Given wholefood supplements can sometimes be a little underwhelming to say the least, we're thrilled that with GLOW, you can be rest assured that it is as delicious as it is efficacious.
Boasting a beautiful berry flavour, GLOW has been formulated to taste delicious on its own simply stirred through water—but we also love to get creative in the kitchen, adding it to a number of gut-friendly recipes. Here are five of our faves to try right now…
Say farewell to sugar-laden muesli bars and hello to glowing skin with this tasty take on the humble snack bar. Store in the fridge for up to four weeks—or freeze to grab and go when the hunger pangs strike.
You can never go wrong with a smoothie, but this antioxidant-rich blend is sure to satisfy with the addition of prebiotic-rich pear and probiotic-packed kefir.
Rich in healthy fats from macadamias and coconut cream, these moreish mousses are as pretty as a picture—and the perfect way to feed your skin from within.
These brownie ice creams may look decadent, but they are the perfect definition of 'beauty food'! Packed with antioxidants and skin-loving healthy fats, they're the ultimate freezer treat.
If your morning smoothie just isn't doing it for you, switch things up by recreating this glowing bircher bowl. Served with 'glow-yoghurt', it's the perfect way to support your skin from within.