new product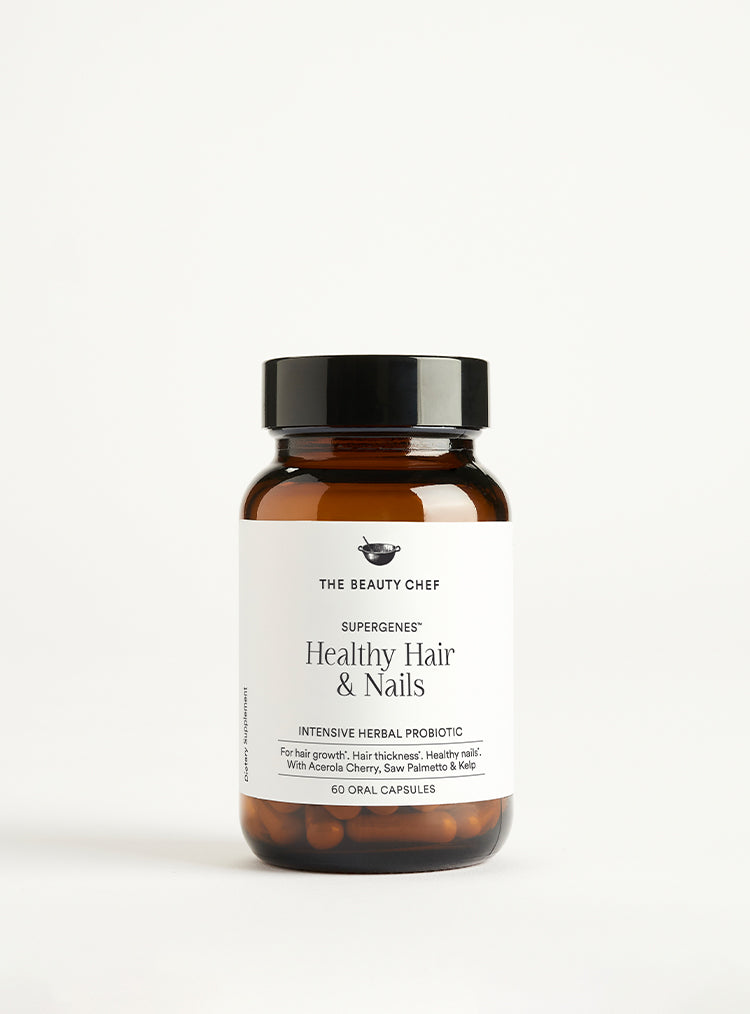 new product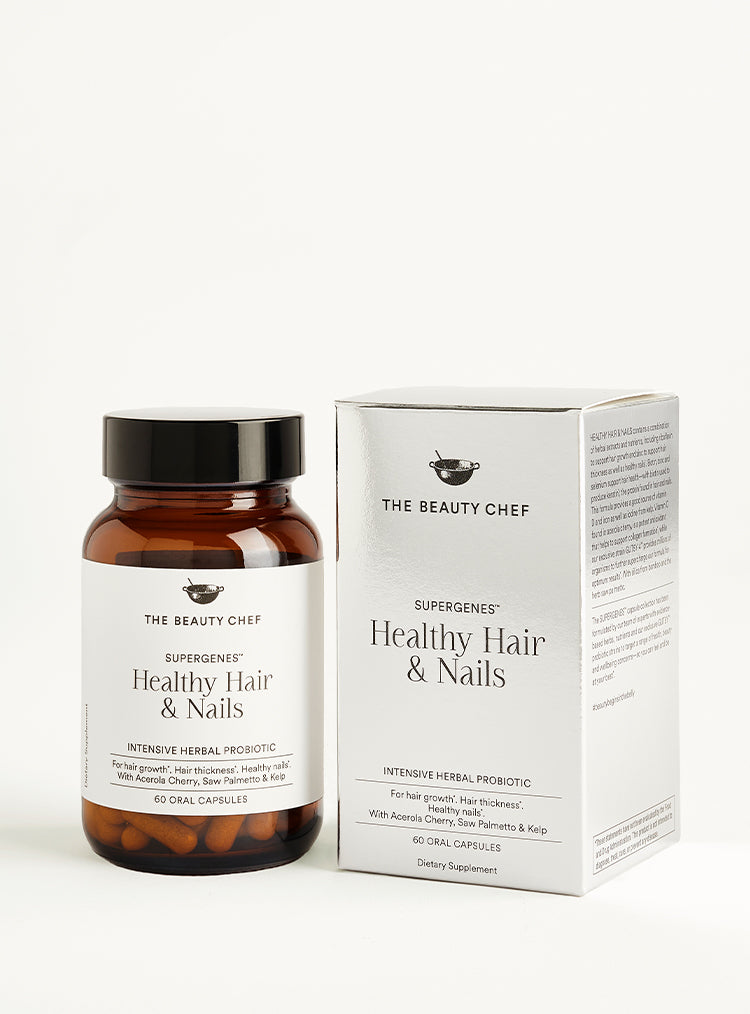 new product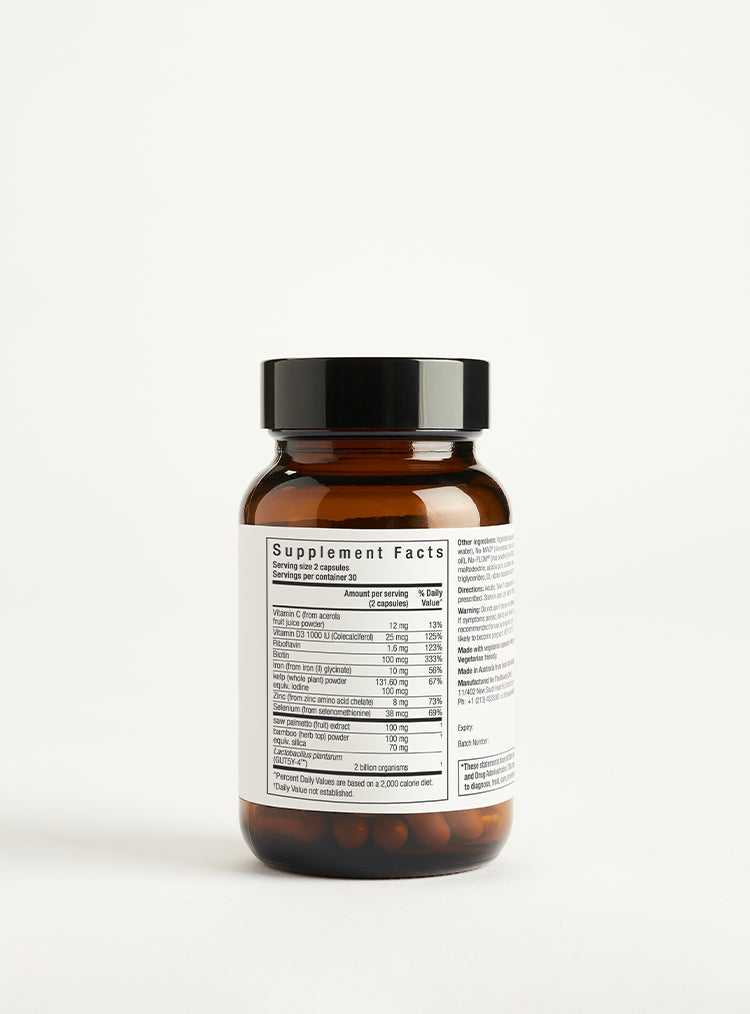 new product
SUPERGENES™ HEALTHY HAIR & NAILS


Intensive Herbal Probiotic | 60 Oral Capsules

A capsule to promote thick, healthy hair and strong nails*.

Enjoy lustrous locks and stronger nails with our intensive herbal probiotic, designed to support hair thickness, hair growth and healthy nails*.
WHY YOU'LL LOVE IT
Supports overall hair health*. This formula is designed to support thick, healthy hair and hair growth*.
Helps encourage stronger hair and nails*. Ingredients in Healthy Hair & Nails work synergistically to provide complete hair and nail support*.
Contains our exclusive probiotic strain. GUT5Y-4™ provides millions of organisms to supercharge Healthy Hair & Nails for optimum results*.
SUPERGENES™
Formulated by our team of experts with evidence-based herbs, nutrients & our exclusive probiotic strains to target a range of health, beauty & wellbeing concerns*.
OUR DIFFERENCE
Vegetarian
Evidence-based herbs
Exclusive probiotics
Clean capsules
How to use
Take 2 capsules daily, with water, or as professionally prescribed.
For optimal results, Healthy Hair & Nails can be taken with any other Beauty Chef product.
Store below 77ºF in a cool, dry place away from sunlight.

Do not use if tamper evidence seal is broken. If symptoms persist, talk to your health professional.

Not recommended for use by pregnant and lactating women, or women likely to become pregnant.

KEEP OUT OF REACH OF CHILDREN.
*These statements have not been evaluated by the Food and Drug Administration. This product is not intended to diagnose, treat, cure or prevent any disease.
READ MORE
Amplify with
SILICA
Derived from bamboo, silica supports healthy skin, hair and nails*.
IODINE
Derived from kelp, iodine supports healthy thyroid gland function and the production of thyroid hormones*.
BIOTIN
The combination of biotin, zinc, silica and selenium in this formula work synergistically to support hair and skin health*.
GUT5Y-4™
Our exclusive probiotic strain provides millions of organisms to further supercharge this blend for optimum results*.
IRON
Iron is essential for red blood cell production and supports the transportation of oxygen to hair and nail follicles*.
VITAMIN D3
This formula contains a good source of vegetarian vitamin D3*.
Each capsule contains:
Ascophyllum nodosum (kelp) dry whole plant powder 65.8 mg. Equiv. iodine 50 micrograms
Serenoa repens (saw palmetto) extract dry concentrate 50 mg. Derived from dry fruit 500 mg
Bambusa breviflora (bamboo) dry herb top powder 50 mg, equiv. silica 35 mg
Malpighia glabra (acerola cherry) fruit dry juice powder 35.3 mg. Equiv. ascorbic acid (vitamin C) 6 mg
Colecalciferol (vitamin D3 500 IU) 12.5 micrograms
Riboflavin (vitamin B2) 800 micrograms
Biotin 50 micrograms, Iron (from iron (II) glycinate 26.9 mg) 5 mg
Zinc (from zinc amino acid chelate 21 mg)f 4 mg
Selenium (from selenomethionine 47.2 micrograms) 19 micrograms
Lactobacillus plantarum (GUT5Y-4™) 1 billion organisms